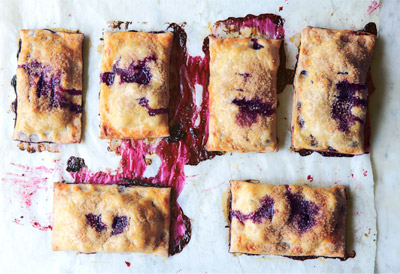 Serves 6
INGREDIENTS
- Buttery Pie Crust (click for recipe)
- All-purpose flour (for dusting)
- 2 cups blueberries
- 1 teaspoon finely grated lemon zest
- 1 tablespoon fresh lemon juice
- 1/4 cup sugar
- 1/4 teaspoon kosher salt
- 1 large egg, whisked with 1 teaspoon water
- 1 tablespoon raw sugar

INSTRUCTIONS
1. Preheat oven to 190°C. Roll out dough on a floured surface to a 38 x 30cm rectangle. Cut into 6 rectangles.

2. Toss blueberries, lemon zest, lemon juice, sugar, and salt in a medium bowl. Brush edges of rectangles with water; mound some blueberries in center of each. Fold dough over, and press edges to seal. Place on a parchment-lined baking sheet, brush with egg wash, and sprinkle with raw sugar. Cut slits in tops.

3. Bake hand pies, rotating sheet halfway through, until juices are bubbling and pastry is golden brown, 35–40 minutes (juices will run onto parchment). Transfer to a wire rack. Serve warm or at room temperature.
ref: www.bonappetit.com