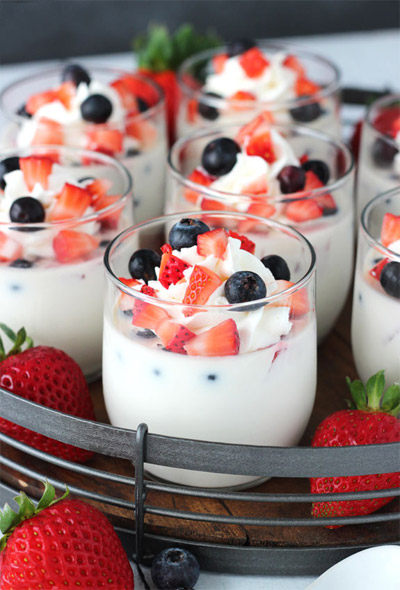 Serves 8
INGREDIENTS
Panna Cotta
- 1 cup chopped strawberries
- 1 cup blueberries
- 4 tbsp powdered gelatin
- 5 tbsp cold water
- 3 cups heavy whipping cream
- 1 cup whole milk
- 1/2 cup sugar
- 1 tbsp vanilla extract
Whipped Cream
- 1/2 cup heavy whipping cream
- 1/4 cup powdered sugar
- 1/2 tsp vanilla extract
- additional berries, for topping

INSTRUCTIONS
1. Divide strawberries and blueberries evenly between eight 235 ml glasses.

2. Sprinkle the gelatin over the cold water in a medium-sized bowl and let stand 5 to 10 minutes.

3. While gelatin sits, heat the heavy cream, milk and sugar in a saucepan over medium-high heat. Do not boil. Once the sugar is dissolved, remove from heat and stir in the vanilla extract.

4. Pour the milk mixture over the gelatin and stir until the gelatin is completely dissolved.

5. Pour the panna cotta mixture into the prepared cups, dividing it evenly among the cups. Chill them until firm, 3-4 hours.

6. Once firm, make whipped cream. Whip heavy whipping cream until it begins to thicken.

7. Add powdered sugar and vanilla extract and whip until stiff peaks form.

8. Top panna cotta with whipped cream and some additional strawberries and blueberries. Refrigerate until ready to serve.
ref: lifeloveandsugar.com