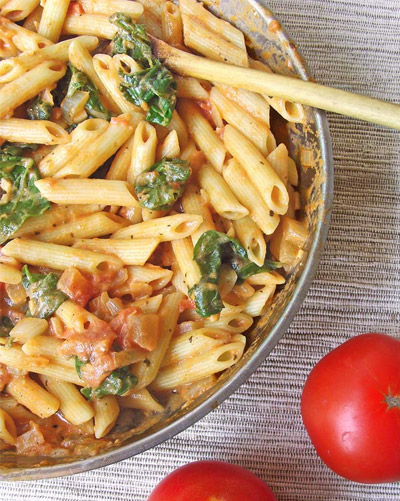 Serves 4
Nutritional information based on per serving: Carbs 56g | Fat 11g | Protein 14g
INGREDIENTS
- 2 tbsps tomato paste
- 57 grams cream cheese
- 25 grams parmesan cheese (grated)
- 227 grams penne pasta
- 255 grams fresh spinach
- 1 tbsp olive oil
- 1 onions (small)
- 2 garlic cloves
- 425 grams diced tomatoes
- 1/2 tsp dried oregano
- 1/2 tsp dried basil
- 1 pinch red pepper flakes
- ground pepper (fresh, to taste)
- 1/2 tsp salt

INSTRUCTIONS
For the crust
1. Fill your pasta pot with water, add salt and let it reach a boil.
2. Add pasta, cook and stir occasionally until tender (7 to 10 minutes). Drain pasta.
3. Dice the onion and mince the garlic.
4. While pasta is cooking, place a large sauce pan over medium heat with olive oil.
5. When hot, add onions and garlic to sauce pan.
6. Stir occasionally and cook for about 5 minutes.
7. Add the diced tomatoes (with juices), oregano, red pepper flakes, basil, salt, and some freshly cracked pepper to the skillet with the onions and garlic. Stir to combine.
8. Add tomato paste and a ½ cup of water and stir again until the tomato paste is dissolved into the sauce.
9. Reduce to medium-low heat.
10. Add cream cheese and stir until evenly combined.
11. Add Parmesan cheese and stir until melted.
12. Add the fresh spinach and gently stir it into the sauce until it has wilted (3-5 minutes).
13. Add pasta and stir well.
14. Taste and adjust the salt and pepper as needed.
15. Serve warm.

ref: yummly.com