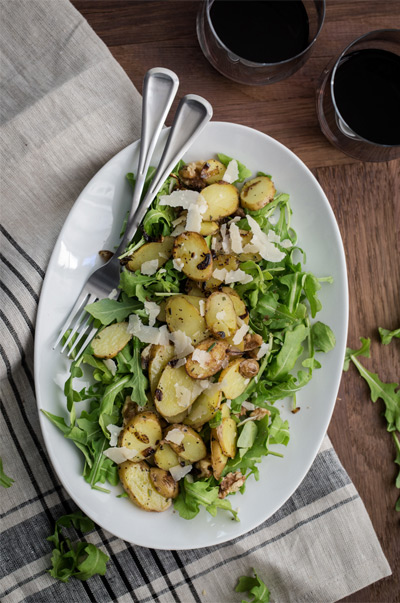 Serves 2
INGREDIENTS
- 225g small potatoes
- 1 tablespoon olive oil
- 1 small onion, diced
- ¼ teaspoon sea salt
- ¼ teaspoon black pepper
- 2 teaspoons fresh rosemary
- 4 cups baby arugula
- ¼ cup toasted walnuts
- ¼ cup shaved Parmesan

Dressing:
- 2 tablespoons olive oil
- 1 tablespoon lemon juice
- 1 teaspoon honey
- Salt, pepper, to taste

INSTRUCTIONS
1. Cut the small potatoes into thick slices. Put in boiling water for 4-5 minutes, until just tender but still holding their shape.

2. In a pan, heat olive oil over medium-low heat. Add onion, potatoes, salt and pepper. Cook until the potatoes have started to brown and are soft, 10 to 12 minutes. Stir in rosemary; cook for one minute.

3. Combine the arugula, potatoes, walnuts and Parmesan. In a small bowl, whisk together dressing ingredients; pour over the salad, and toss until everything is well-combined.
ref: naturallyella.com